Nickelodeon Investigates Breach After Leak of 'Decades Old' Data
Nickelodeon, an American pay TV channel owned by Paramount, has confirmed the legitimacy of leaked data from an alleged breach. However, some of the leaked information appears to be decades old.
Nickelodeon's programming is primarily targeted at children and family audiences.
In late June, rumors began circulating about a major leak from Nickelodeon's animation department. Evidence of the alleged breach started circulating on social media, revealing a substantial collection of documents and media files, estimated to be around 500GB in size.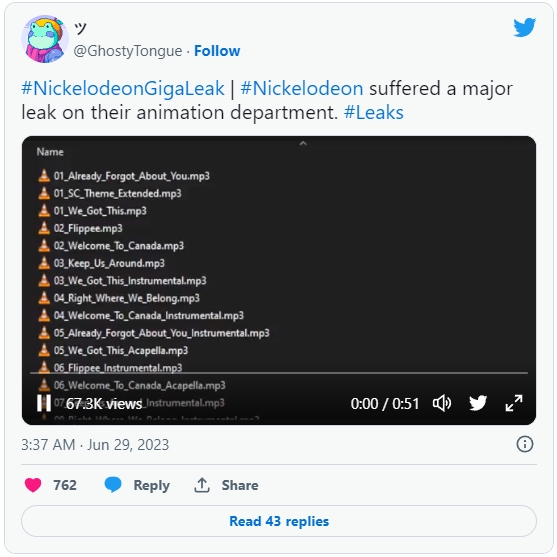 The data breach supposedly occurred in January of this year, with unauthorized access being blocked by Nickelodeon two months later. However, there is no reliable evidence supporting this claim.
According to some sources, all the leaked files were shared on a private Discord server and have since been reposted on various platforms.
When contacted by BleepingComputer, a Nickelodeon spokesperson confirmed an ongoing investigation. However, they stated that the leaked data does not appear to be the result of a recent breach of their systems.
The spokesperson also reassured that the leaked data does not include any user or employee information. Instead, it is limited to production resources and other intellectual property.
"We are aware of social media posts alleging that unauthorized production-related files have been made available, and we are currently investigating," said the Nickelodeon spokesperson.
"The leaked content seems to be related only to production files, and not long-form content or employee or user data. Furthermore, some of the leaked content appears to be several decades old," they added.
While it may take some time to thoroughly analyze the entire data dump, based on Nickelodeon's statement, there is no indication of a significant breach.
However, it is important to note that redistributing copyrighted intellectual property is illegal, regardless of whether the content is old or not. Those involved in such activities may face legal consequences.