Personal Information and Credentials of SchoolDude Users Stolen in Data Breach
IT Services provider, Brightly Software, a subsidiary of Siemens, has notified its customers that their personal information and credentials were stolen by cyber attackers who gained access to the database of its SchoolDude online platform. SchoolDude is a cloud-based platform used for managing work orders by more than 7,000 colleges, universities, and K-12 schools, with up to 600,000 students. The company's other Software as a Service (SaaS) solutions are also being used by over 12,000 organisations worldwide, with most of them located in the United States, Canada, the United Kingdom, and Australia.
The company has written to affected SchoolDude users, stating that "the incident involved an unauthorized actor obtaining certain account information from the SchoolDude user database." The stolen information includes names, email addresses, account passwords, phone numbers (where available), and school district names. Brightly Software believes that customer account information has been stolen by the threat actors.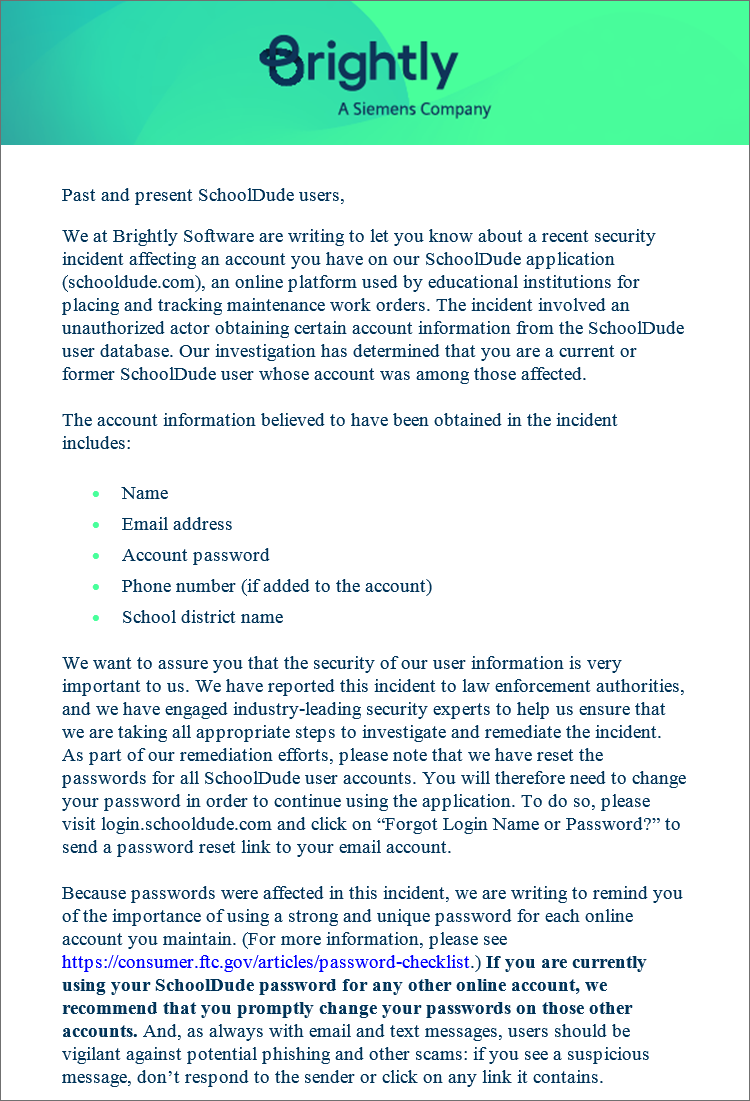 Brightly Software has reset the passwords of all SchoolDude users, who will now have to choose a new password by clicking "Forgot Login Name or Password?" on login.schooldude.com. The company reminds users of the importance of using strong and unique passwords for each of their online accounts. If the same password has been used for any other online account, the company recommends that users promptly change their passwords on those accounts.
After detecting the breach, Brightly Software reported the incident to the relevant law enforcement authorities and hired third-party security experts to investigate the attack. According to a notification filed with the Office of Maine's Attorney General, the attackers infiltrated Brightly Software's systems on April 20 and were discovered on April 28. The same notification reveals that the data breach affected 2,964,292 SchoolDude customers and users.
A Brightly spokesperson shared that the company had no further details to provide beyond what was included in the letters sent to customers.
Update: Added breach date and the number of affected individuals.